Stewart MacFarlane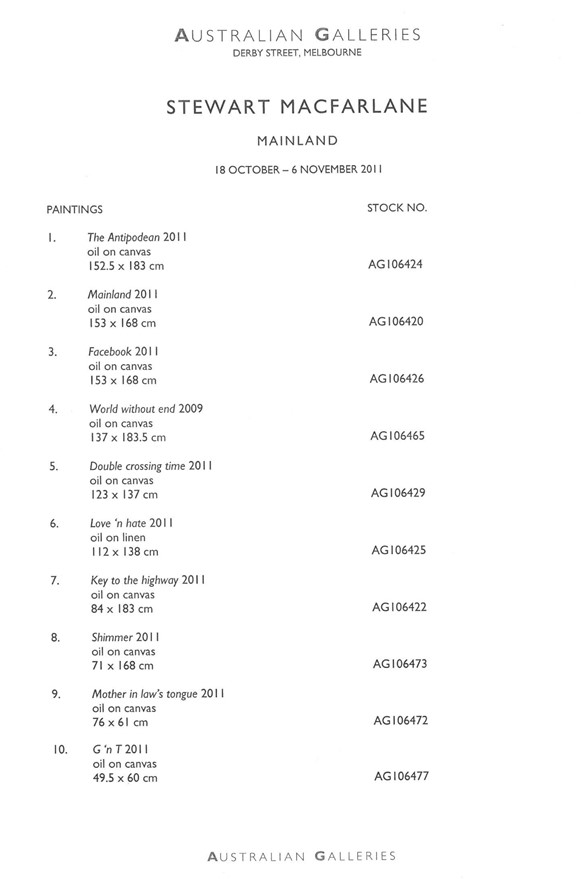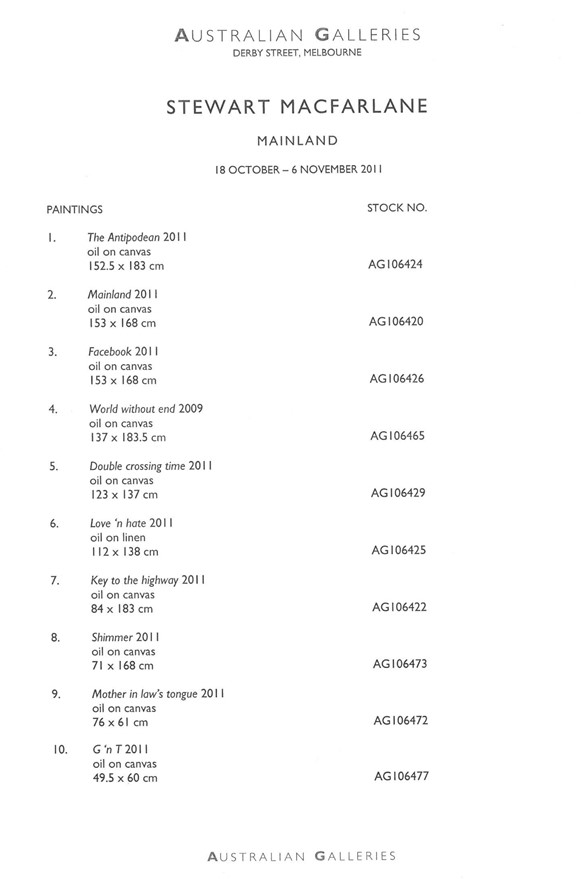 Stewart MacFarlane
Footsteps, 2010
Stewart MacFarlane (born 1953)
oil on board
37 x 56cm
signed and dated lower right
Provenance: Australian Galleries, label verso
Exhibited: Stewart MacFarlane, Mainland, Australian Galleries, 18 October - 6 November 2011, # 14
$1,850
$185 rent-to-try
purchase enquiries:
simon@ensemblefineart.com.au
0419 540 162
The combination of light, the look of characters and the implicit narratives create a cinematic quality to Stuart MacFarlane's paintings. As seen in Footsteps 2010, his paintings combine the language of film (viewpoints, camera angles, abstract qualities of light and reflection and strong colour) with the painterly structures and iconography of western art. This combination gives his painting great power. This is heighted even further when he informs the viewer that there is something going on outside the frame (you are only shown the feet of the secondary character). The viewer becomes implicated in and is forced to image the drama that is about to unfold.
Stewart MacFarlane
Stewart MacFarlane was born in Adelaide and completed his Diploma in Fine Art in 1974 before travelling to the US to further his studies, completing a Bachelor of Fine Arts in 1977. He returned to Australia in 1983, moving to Melbourne the following year for post-graduate studies at the Victorian College of the Arts. In 1987, MacFarlane lived and painted in Mornington, Victoria for several months before receiving an initial residency with the Roswell Artist-in-residence program, New Mexico, for a year. Over the next 8 years he moved between Melbourne, Sydney and Roswell, producing one or more solo exhibitions each year. Queensland became home in 1995, where he remained to work for the next seven years. MacFarlane moved to Hobart in 2002 until moving back to mainland Australia, in 2011.
He has held over 50 solo exhibitions of his work in Australia, Asia, U.S.A. and Germany. A monograph of his work, titled 'Stewart MacFarlane: Riddles of life' was published in 1996, followed by a second monograph published in 2012, titled 'Stewart MacFarlane: Paintings'.
MacFarlane's work is represented in the National Gallery of Australia, the National Gallery of Victoria, the QLD Art Gallery, Artbank, Art Gallery of WA, Brisbane City Gallery, the Tasmanian Museum and Art Gallery and many regional institutions.