Merrin Eirth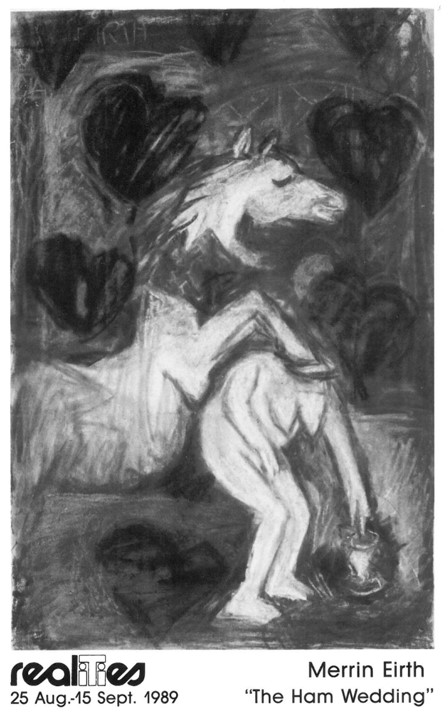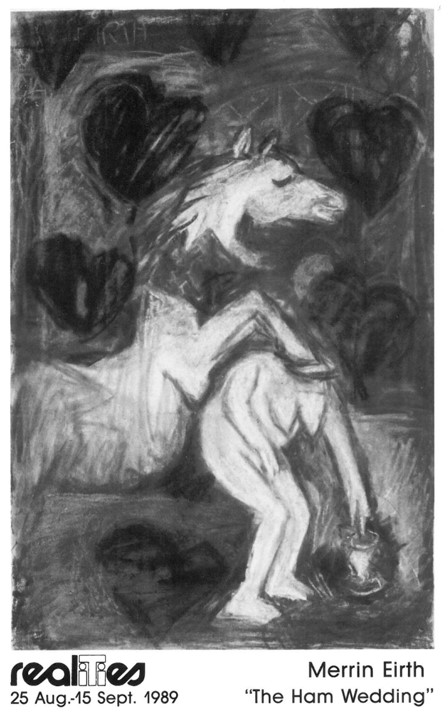 Merrin Eirth
Afternoon Tease, 1988
Merrin Eirth (born 1957)
mixed media on paper
57 x 38cm
signed and dated lower right
Provenance: Realities Gallery, Melbourne, label verso
Exhibited: Merrin Eirth, "The Ham Wedding" Drawings 1987/88, N.Y. – Melbourne, Realities, 25th Aug – 15th Sept 1989, cat. no. 3
$250

purchase enquiries:
simon@ensemblefineart.com.au
0419 540 162

Merrin Eirth's suavely drawn work explores emotional and intimate states of being.
Merrin Eirth
Merrin Eirth was born in Benalla, Victoria and studied art at Prahran College and the Victorian College of Arts. Merrin had her first solo exhibition at 200 Gertrude Street Fitzroy in 1986. Since then she has exhibited at Realities, Monash University Gallery, Dianne Tanzer, VCA Gallery and Artist Running Space.
She was an inaugural studio artist at Gertrude Street Artist Spaces and was awarded Australia Council Studios at New York and France; the Robert Jacks Drawing Prize; City of Hobart Art Prize and a City of Melbourne Arts Project Grant.
From 1991-2013 she was senior lecturer in Drawing at the Victorian College of Arts.
Her work is held in numerous collections including Artbank and the National Gallery of Victoria.